Sutherland Ave Active Transportation Corridor
Project Details
Service: Transportation
Client: City of Kelowna
Location: Kelowna, BC
Year: 2018-2021
Sutherland Ave Active Transportation Corridor
WATT has been working with the City of Kelowna over the last three+ years to provide conceptual and detailed design support for the implementation of multiple segments of the Sutherland Avenue Two-Way Protected Bike Lanes from Pandosy Street to Burtch Street.
CITY OF KELOWNA (2018-2021)
This work included traffic analysis, updating intersection geometry and conceptual designs to accommodate protected bike lanes, creating pavement marking and signage plans, updating signal phasing, transit stop integration and review of safety elements; as well as providing some additional input on current industry Best Management Practices to inform the detailed design of this project.
The project was broken into two segments, the first from Pandosy Street to Ethel Street which has since been constructed and features a raised concrete median separating the two-way protected bike lane from vehicle traffic.
Design on the second segment is currently ongoing, and will be constructed to reflect an interim condition, utilizing materials that can be installed quickly and are temporary (last for +/- 10 years), which then can be upgraded or removed as necessary.
Once segment two is complete later in 2021, this critical missing link in the Sutherland Avenue ATC will solidify an east-west protected cycling route that ensures a direct connection between Capri-Landmark and important destinations in both the urban core and regional active transportation network and will provide a continuous, safe, enjoyable bicycle experience to the residents that live, work, shop, and recreate in the vicinity of this ATC.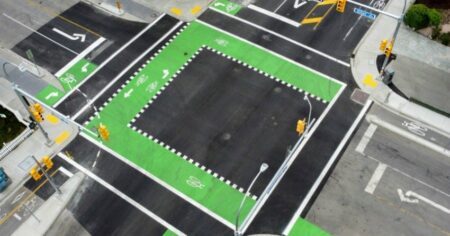 PHOTO: City of Kelowna