Complete Streets
Complete Streets
IMPLEMENTATION OF BYLAW 1000 LANGFORD (2018)
Project Details
WATT Consulting Group has been providing the City of Langford with as and when traffic and transportation engineering services for the past five years. These services include working with and supporting Langford Engineering in the implementation of their Bylaw 1000 document. The Bylaw 1000 outlines typical sections as well as minimum design element widths and consideration for all user groups.
We have worked with the City to implement these Complete Streets concepts on the West Shore Parkway extension, which included providing for vehicles (passenger cars and heavy trucks), pedestrians, and cyclists through a variety of adjacent land uses (rural/undeveloped, residential, and commercial land uses).
We also have worked with the City to identify a required cross section on Sooke Road (Highway 14) that accommodates MoTI's needs (an ultimate five lane cross section) along with the City's (bicycle lanes, wide landscaping, and wide sidewalks in urban areas). Three cross sections, along with a plan view concept of the Sooke Road corridor between West Shore Parkway and Jacklin Road was developed to provide a framework for the City, MoTI, and developers to understand the right-of-way needs and potential upgrades along each property in the corridor.
Other example projects include Leigh Road Interchange and upgrading Millstream Road Interchange to include a dual southbound left turn lane and improved bicycle and pedestrian facilities to allow these users to cross the interchange bridge. We are currently working with the City of Langford on the McCallum Road upgrades to accommodate a large scale development and ensure that vehicles are accommodated, while completing pedestrian and bicycle connections, and facilitate transit along the route.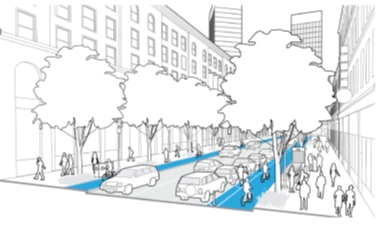 EDMONTON COMPLETE STREETS GUIDELINES (2013)
Project Details
The Edmonton Complete Streets Guidelines project pioneered the formal introduction of new best practices in transportation street planning and design to the Edmonton context. The project was championed by a highly-involved client team from the City, wherein the consultant was intended to work hand-in-hand with the City's project manager and core team.
Dealing with a wide range of internal stakeholder viewpoints was also critical — various branches and sections within the City organization have wide ranging levels of understanding and support / opposition to the effects of the Complete Streets approach; from technical objections to routine resistance to change. Being open and responsive in dealing with the various viewpoints allowed for increasing levels of buy-in. Being able to consolidate and integrate a wide range of disparate inputs was key to producing a cohesive deliverable set of guidelines.
The consulting team included technical specialists in Complete Streets who had ideals and aspirations for Complete Streets in Edmonton. The team listened carefully to the client's feedback and critiques, making sure that the deliverables were customized to the City's needs and level-of-readiness. The end result was Complete Streets Guidelines that are viewed as progressive and representative of best practices, while not containing elements judged to be unacceptable or inappropriate in the consensus view of the City stakeholders as determined ultimately by the City's project manager.
The Complete Streets Guidelines project consisted of: introductory material and integration with governing policies; confirmation and participation in development of guiding principles (led by City); development of a Complete Streets design process; design, conceptualization, and preparation of text and drawings for a design elements toolkit; development of an implementation strategy; and a glossary and section with plain-English description of Complete Streets for better citizen understanding.